IIASA's main funding comes from its National Member Organizations (NMOs), with additional funding obtained from competitive contracts, grants, and donations from governments, international organizations, academia, business, and individuals. In 2014 IIASA received over €11.3 million in contributions from its NMOs and over €8.5 million from contracts, grants, and donations—both record-breaking figures for the Institute.
Between 2006-2014 IIASA's research was awarded grants that amounted to €69 million. This was part of a total funding portfolio of €329 million of the external projects in which IIASA was and is involved.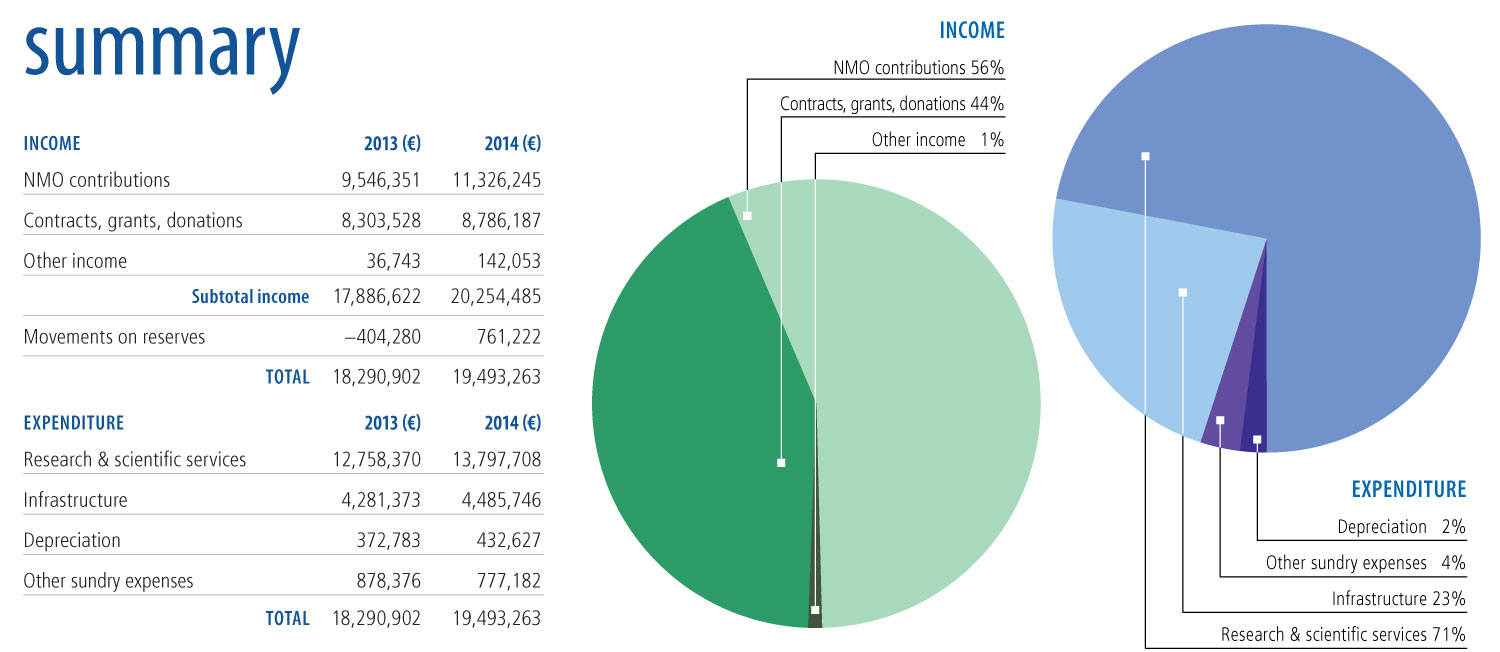 Donations
Generous donations to IIASA's Annual Fund from IIASA supporters and the Petr Aven Fellowship enabled two young scientists, from Thailand and the Russian Federation, respectively, to participate in the 2014 Young Scientists Summer Program (YSSP).
The Institute continues to receive generous support through the nongovernmental organization Friends of IIASA (FoI), which enables US residents to make tax‑deductible donations to the Institute.
In 2014, thanks to many generous donations, IIASA nominated the first postdoctoral fellow in honor of Peter E. de Jánosi, IIASA's sixth Director. By May 2015, over $1 million had been raised for the de Jánosi Fellowship Fund.
IIASA thanks all donors for their contributions in 2014 and is grateful for their belief in the goals and mission of this Institute.
A list of donors is available at www.iiasa.ac.at/donors
Contracts and Grants
alpS GmbH, Austria  Austrian Agency for International Cooperation in Education and Research (OeAD‑GmbH), Austria  Austrian Climate Research Program (ACRP), Austria  Austrian Development Agency (ADA), Austria  Austrian Development Cooperation, Austria  Austrian Institute of Technology GmbH (AIT), Austria  Austrian Research Promotion Agency (FFG), Austria  Austrian Science Fund (FWF), Austria  Das Österreichische Förderungsprogramm für Sicherheitsforschung – KIRAS, Austria  FAS.research, Austria  Federal Ministry of Agriculture, Forestry, Environment and Water Management (BMLFUW), Austria  International Union of Forest Research Organizations (IUFRO), Austria  Joanneum Research Forschungsgesellschaft mbH, Austria  Karl‑Franzens University of Graz, Austria  Kommunalkredit, Public Consulting GmbH (KPC), Austria  Land Salzburg, Austria  OMV Aktiengesellschaft, Austria  Sustainable Europe Research Institute (SERI), Austria  Technische Universitaet Wien (TU Wien), Austria  University of Graz, Austria  University of Natural Resources and Life Sciences, Vienna (BOKU), Austria  University of Veterinary Medicine Vienna, Austria  European Commission, Belgium  European Commission, DG Climate Action, Belgium  European Commission, DG Energy, Belgium  European Commission, DG Environment, Belgium  European Commission, DG Information Society and Media, Belgium  European Commission, DG Research & Innovation, Belgium  European Commission, European Research Council Executive Agency, Belgium  European Commission, Executive Agency for Competitiveness and Innovation (EACI), Belgium  European Commission, Research Executive Agency (REA), Belgium  European Parliament, Belgium  Katholieke Universiteit Leuven, Belgium  Vlaamse Instelling Voor Technologisch Onderzoek n.v., Belgium  Center for Strategic Studies and Management (CGEE), Brazil  National Committee for Disaster Management (NCDM), Cambodia  International Center for Tropical Agriculture (CIAT), Colombia  The Danish Energy Agency (DEA), Denmark  Agricultural Research For Development (CIRAD), France  Euroquality sarl, France  Foundation Jean‑Jacques Laffont, France  French National Institute for Industrial Environment and Risks (INERIS), France  Institut National de la Recherche Agronomique, France  Organisation for Economic Co‑operation and Development (OECD), France  Fachagentur Nachwachsende Rohstoffe e.V., Germany  Federal Minister for the Environment, Nature Conservation and Nuclear Safety (BMU), Germany  Friedrich Schiller University Jena, Germany  Helmholtz‑Zentrum Geesthacht Zentrum fuer Material- und Kuestenforschung GmbH, Germany  International Climate Initiative, German Federal Ministry for the Environment, Nature Conservation and Nuclear Safety (ICI), Germany  Potsdam Institute for Climate Impact Research (PIK), Germany  Stiftung Alfred‑Wegener‑Institut für Polar- und Meeresforschung, Germany  The Climate Shop UG, Germany  Thünen Institute of Wood Research, Germany  Foundation for Research and Technology Hellas, Greece  Institute of Communication and Computer Systems (ICCS), National Technical University of Athens, Greece  Centro Euro‑Mediterraneo sui Cambiamenti Climatici – University of Tuscia (CMCC), Italy  European Space Research Institute – European Space Agency (ESRIN, ESA), Italy  Fondazione Eni Enrico Mattei, Italy  Food and Agriculture Organization of the United Nations (FAO), Italy  International Fund for Agricultural Development (IFAD), Italy  Università degli Studi di Urbino, Italy  Institute for Global Environmental Strategies (IGES), Japan  National Institute for Environmental Studies (NIES), Japan  Research Institute of Innovative Technology for the Earth (RITE), Japan  Toyota Motor Corporation, Japan  Eurasian Development Bank, Kazakhstan  The International Livestock Research Institute (ILRI), Kenya  United Nations Environmental Programme (UNEP), Kenya  World Health Organization (WHO), Malaysia  ALTERRA Wageningen UR, Netherlands  Ecofys Netherlands b.v., Netherlands  GEOdan Holding b.v., Netherlands  LEI Research Institute Wageningen UR, Netherlands  Netherlands Environmental Assessment Agency (PBL), Netherlands  Universiteit Twente, Faculty of Geo‑Information Science and Earth Observation (ITC), Netherlands  Vrije Universiteit Amsterdam (Stichting VU‑VUMC), Netherlands  Norsk Institutt for Luftforskning, Norway  Norway International Climate and Forest Initiative (NIFCI), Norway  Norwegian Agency for Development Cooperation (NORAD), Norway  Norwegian Meteorological Institute (Met Norway), Norway  Systems Research Institute of the Polish Academy of Sciences IBS PAN (SRI), Poland  E‑Planet Co Ltd., Republic of Korea  Konkuk University, Republic of Korea  Korea Forest Research Institute (KFRI), Republic of Korea  Korea Science and Engineering Foundation (KOSEF), Republic of Korea  Alfa‑Bank, Russia  Universitat Autonoma De Barcelona Edifici C, Spain  IVL Swedish Environmental Research Institute Ltd., Sweden  Stockholms Universitet, Sweden  Swedish Research Council for Environment, Agricultural Sciences and Spatial Planning (FORMAS), Sweden  Swedish University of Agricultural Sciences (SLU), Sweden  Umea Universitet, Sweden  Federal Office for the Environment (FOEN), Switzerland  United Nations Economic Commission for Europe (UNECE), Switzerland  United Nations Office for Disaster Risk Reduction (UNISDR), Switzerland  Zurich Insurance Company Ltd, Switzerland  Asian Disaster Preparedness Center (ADPC), Thailand  Global Canopy Project (GCP), UK  Natural Environment Research Council, UK  University of Bath, UK  University of Newcastle Upon Tyne (UNEW), UK  University of Nottingham, UK  ClimateWorks Foundation, USA  Environmental Defense Fund (EDF), USA  National Science Foundation (NSF), USA  Pew Research Center, USA  RTI International (RTI), USA  The Meridian Institute, USA  The World Bank, USA  United Nations Foundation (UNF), USA  University of Colorado at Boulder, USA  University of Nebraska‑Lincoln, USA